How to download TikTok videos without a watermark.
An exceptionally well-liked platform for sharing brief films with friends and followers is TikTok. The obvious watermark that appears on downloaded videos is a common annoyance, how to download TikTok videos without a watermark is a common problem experienced by most TikTok users. Although there are many reasons why you might wish to download a TikTok video. If this TikTok video watermark is quite annoying or displeasing to you then there is a solution for you in this article. Let's have a brief insight into Tiktok and Tiktok videos before we dive into the main discussion.
What is Tiktok and Tiktok Videos?
What is Tiktok and Tiktok Videos?
TikTok allows users to produce and share short videos. The Chinese company ByteDance introduced it in September 2016, and it immediately became well-known all over the world. TikTok is available as a mobile app for iOS and Android devices. Users can produce films on the platform that are up to 60 seconds long and frequently include lip-syncing, dancing, comedy skits, challenges, and other creative content. It offers a variety of video-enhancing editing tools, filters, effects, and soundtracks.
TikTok video refers to a short video clip created and shared on the TikTok platform. Although users can produce 15-second videos, TikTok videos generally last up to 60 seconds. TikTok videos possess the capacity to go viral and become extremely famous, which frequently results in the producers gaining a sizable following and rising to influencer status within the TikTok community. Based on their interactions and interests, the platform's algorithmic recommendation system helps expose users to a wide variety of films. Videos on TikTok span a wide range of topics, including but not restricted to Lip-syncing and dancing, Comedy and Skits, Challenges, DIY and Life hacks, Beauty and Fashion, Education and Tutorials, Vlogs and Storytelling.
Now let's talk about the steps.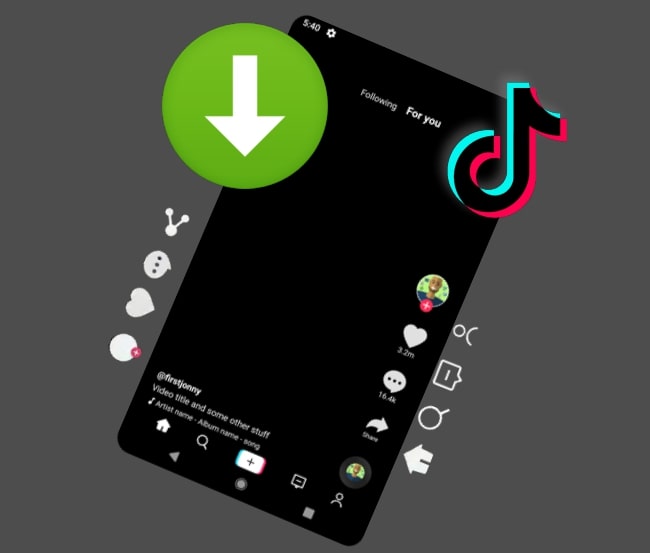 Steps on how to download TikTok videos without a watermark.
These steps are very easy to follow.
1. Ways to acquire TikTok videos devoid of watermarks: Find the TikTok Video.
Finding the TikTok video you want to download without the watermark is the first step. On your smartphone, launch the TikTok app and scroll through the videos until you select the one you want to save.
2. Copy the Video URL
Once you've located the movie you want, touch on the Share button, which is typically depicted by an arrow pointing to the right. Choose "Copy Link" from the list of sharing options to add the video's URL to your device's clipboard.
3. Access a TikTok Video Downloader
Numerous online tools and applications are available that have the capability to help you download TikTok videos without the watermark. Open up a web browser on your device and input the following text "TikTok video downloader without watermark." There is a list of the most well-liked choices.
4. Paste the Video URL
Choose a TikTok video downloader from the search results and open it. Once you are on the downloader's website, locate the text field where you are prompted to paste the video URL. Right-click on the field and select "Paste" or Utilize the key combination (Ctrl+V) to paste the content video URL that you copied in Step 2.
5. Start the Download
To start the download process after pasting the video URL, click the "Download" or "Start" button on the downloader's webpage. The application will examine the URL and retrieve the watermark-free TikTok video.
6. Download the Video
You will be given a download link or a button to save the video file once the TikTok video has been processed without the watermark by the downloader. For the download to start, select the relevant option. The video should be saved in a specific location on your device.
7. Verify the video
Navigate to the location where you saved the video file on your device after the download is finished. To make sure the downloaded video is free of watermarks, play the video using a media player or other video-playing software.
Disclaimer
By adhering to these uncomplicated measures, you can effortlessly download TikTok videos without the annoying watermark. Keep in mind to honor the intellectual property rights of creators and exclusively download videos for personal purposes or in accordance with applicable permissions the necessary permissions. Enjoy saving and sharing your favorite TikTok content without the watermark!
Conclusion
TikTok has become a global cultural phenomenon, attracting a diverse user base of creators, influencers, and viewers of all ages. It has provided a platform for users to showcase their talents, express themselves creatively, and connect with a wide audience. Brands and businesses have also utilized TikTok as a marketing instrument to reach and engage with younger demographics. TikTok's algorithmic recommendation system plays a significant role in its success. The app analyzes users' interactions, videos they view, appreciate, distribute, and engage with, to tailor the content displayed on their "For You" page. This personalized feed allows users to discover new and trending videos that align with their interests.